What's new in Silentel 7.4
Ardaco has a long history with government organizations communication. Already in 2012 being a technical leader in the largest public safety R&D European project SECRICOM - involving several partners and public safety organizations from many EU countries. Ardaco built up a PTT communication platform connecting all organizations involved in public safety, such as police, military, fire brigade, ambulances, hospitals, crises management centres, local county and central government representatives across several countries. The whole PTT solution connecting all government organizations was based on Silentel technology.
Incoming Push-to-Talk enhancements in Silentel
Two years ago, Silentel introduced unique secure conference platform which provides real-time voice and data communication between two and more users in two different modes:
Conference with automatic voice detection – the voice of the participant starts playing automatically when he starts talking.
Push-to-Talk with classic push button control – the voice of the participants starts playing after pushing PTT button.
In the new Silentel version with enhanced PTT functionalities, Silentel remains for users as it was before, with all of its features, such as secure calls, conference calls, chat and file transfer. In addition, Silentel provides secure group communication as classic PTT functionality exactly in the same way as police and other public safety responders know it and are used to it. PTT calls can be done with easily defined groups of unlimited number of users.
Another benefit for users is the possibility to use with any standard Bluetooth devices such as headsets, microphones, or push to talk buttons and other communication or surveillance equipment. In this way Silentel provides flexible and comfortable hands-free operation for its users. An example of a PTT button which the user can comfortably carry on his wrist, finger, attached to uniform or on the car steering wheel is on the picture below.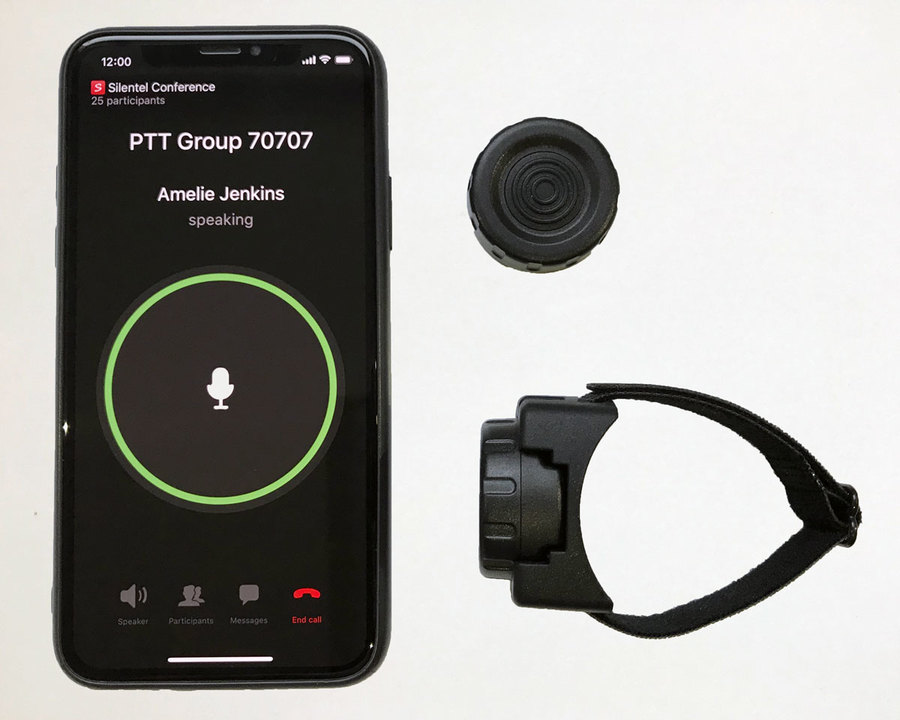 Why to use Silentel Push-to-Talk communication
With Silentel you can easily use your mobile device for all types of communication and storing information without compromising your privacy. Customers have further all the possibilities to:
Run the whole solution on their own infrastructure, 100% under their own control
Have a security features including complete key management, such as key generation / modification / revoking being done by a customer and 100% under his control
Have their own and unique customised version and allowing various ways of users' application distribution
Be 100% independent from any HW vendor and to use the best suitable standard HW
Have a system fulfilling the high military security requirements for NATO Restricted level
Have Silentel with 15 years of proven security and regular independent certifications from several NATO countries
Silentel 7.4 for Android
NEW: Push-to-Talk (PTT) functionality
NEW: Support for Android 11
NEW: Dutch language support
FIXED: Accepting call from notification failed when app was not running in background
FIXED: Keyboard was not hidden when scrolling in messages
FIXED: Contact detail was closed when status has changed
Other minor improvements and bug-fixes
Silentel 7.4 for iOS
NEW: Push-to-Talk (PTT) functionality
NEW: Support for external Bluetooth PTT button
NEW: Support for iOS 14
NEW: Dutch language support
NEW: Possibility to paste more photos at once into chat
FIXED: Crash in Message expiration settings
FIXED: In rare cases messages download failed
FIXED: In rare case user's address was displayed instead of usernames
FIXED: Volume of the sound after message is sent
Other minor improvements and bug-fixes
We update Silentel regularly so we can make it better for you.
Install latest Silentel update now